I-GLOCAL provides many different services to
organize fraud prevention and detection – one of the important operations in the business activities of Vietnamese enterprises.
Fraud prevention solutions consulted by anti-fraud inspector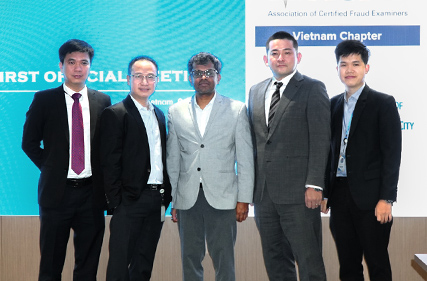 I-GLOCAL always encourage employees to obtain CFE certification (Certified Fraud Examiner) All Japanese members are qualified. In April 2021, I-GLOCAL became a founder member of the first CFE Association Branch in Vietnam, and Mr. Fukumoto – Chief Representative of Ho Chi Minh Office (second from the right picture) has been appointed as Vice President.
※What is CFE?
International certificate by ACFE (Association of Certified Fraud Examiners, Headquarters in Texas, USA), Certified as an inspector in the prevention, detection and anti fraud.
Characteristics and context fraudulence in enterprises in Vietnam
Although Vietnam has a high economic growth rate, but it is necessary to attention to the risk of fraud and corruption.※1
Even in enterprise Japanese in Vietnam, the number of fraud cases seems to be higher than in other countries
(including cases of indirect participation or involvement).
The most likely of fraud cases are from the following characteristics and contexts:
Due to the obvious gap
between weath and poor
Due to connivance with
business partners,
other employees or relatives
Personalization in
business dependence
on veteran employees
Due to lack of knowledge/
awareness of compliance
of employee
※1: According to the "2020 Corruption Perceptions Index – CPI" conducted by Transparency International, Vietnam is ranked 104th out of 180 countries (Japan is 19th).
Source: Transparency International https://www.transparency.org/en/cpi/2020/index/vnm
I-GLOCAL support area
I-GLOCAL will strongly support the promotion of fraud detection and prevention solutions
in Japanese enterprises in Vietnam and the visualization of internal operations.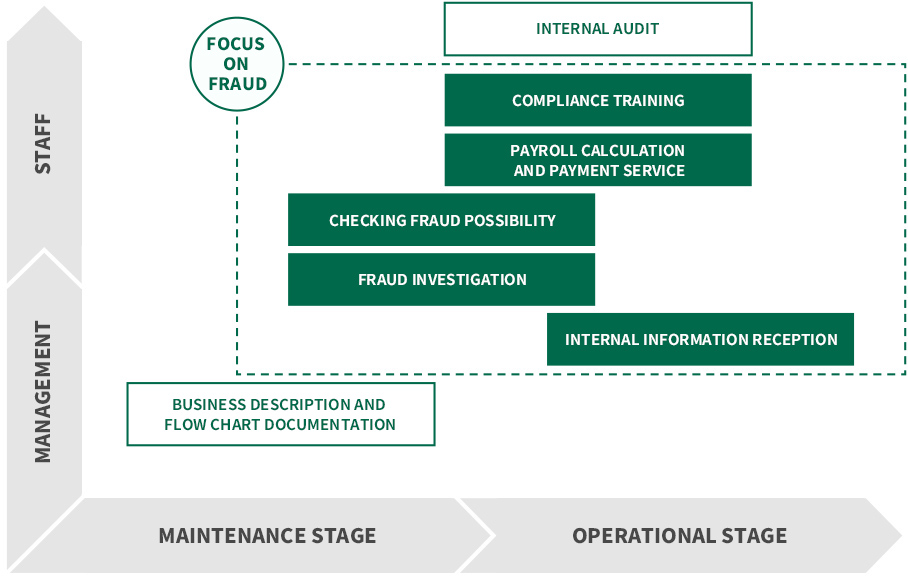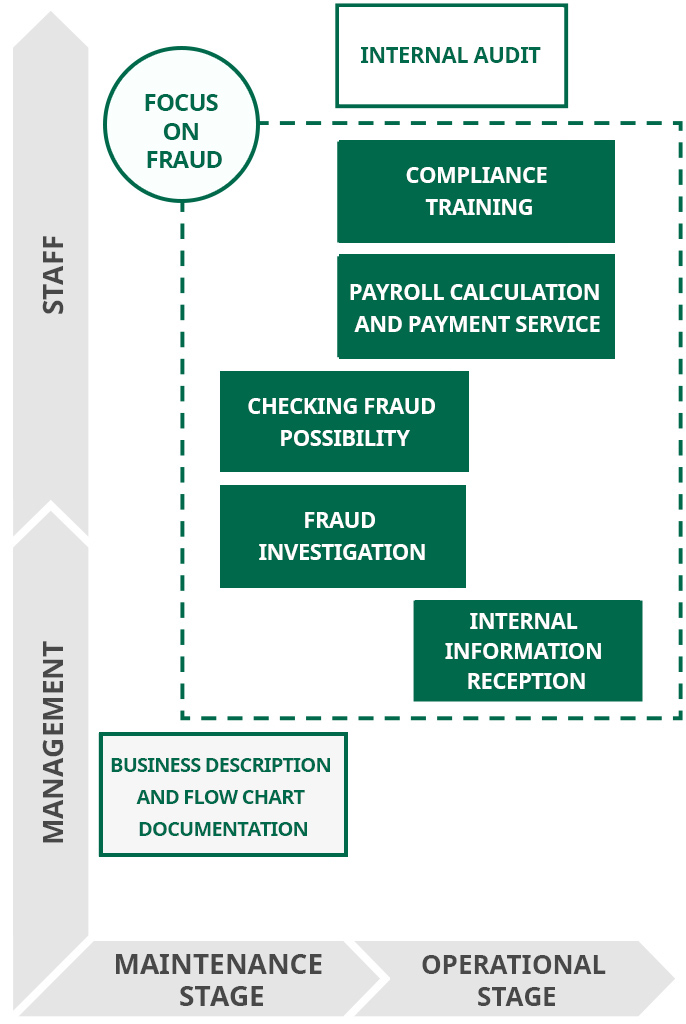 Some examples of services to each situation
Checking fraud possibility
Confirming implementation status of fraud prevention measures

– Work allocation
– Receive and compare quotation from multiple suppliers
– Work rotation
– Whistleblower system
– Compliance training.

Conduct anonymous surveys for employees
Internal control review of purchasing and payment, etc.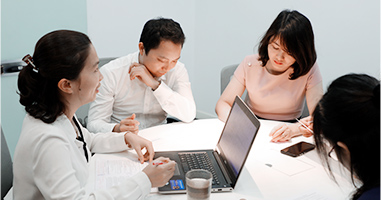 Fraud investigation
Payment transaction analysis
Sample checking of suspected fraudulent transaction types
Investigating email of company, internal SNS (login with company account)
Interviewing suspects
Interviewing supplier and other related parties, etc.
※Depending on each case, it may be necessary to collaborate with lawyers or other experts bsides I-GLOCAL.
Salary calculation and payment service
Ensure transparency in calculation and payment of salary

-Automatic calculation of salary and social insurance premiums based on using a cloud- based payroll system
-Services of salary payment and social insurance payment
※These services are provided by VPO (Vina Payroll Outsourcing) – a member of I-GLOCAL group.
The reasons to choose I-GLOCAL
Core members with
professional qualifications
Japanese Certified Public Accountant/ Certified Public Tax Accountant
Vietnamese Certified Public Accountant/ Certified Public Tax Accountant
Our team is fluent in both Japanese and Vietnamese languages, with over 10 years of practical experience at the company.
Anti-fraud inspector
Outstanding supporting achievements for Japanese companies
We have the largest number of customers and projects from Japanese companies in Vietnam, I-GLOCAL understands demand and position of both the parent company and the subsidiary in Vietnam, thereby providing in-depth and detailed support services.
Quick support system
The person in charge will check the progress directly at the enterprise, support timely sharing information and remove obstacles.
Related reports
I-GLOCAL ・Vietnam Report 
~Accounting and Tax
I-GLOCAL ・Vietnam Report 
~Accounting and Tax
I-GLOCAL ・Vietnam Report 
~Accounting and Tax